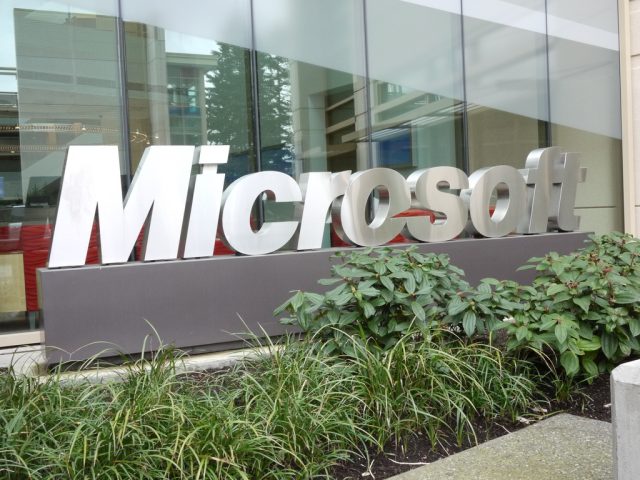 Microsoft has posted the results of the second quarter of its 2018 financial year, running up until December 31, 2017. Revenue was $28.9 billion, up 12 percent year-on-year, and operating income was $8.7 billion, a 10 percent increase. Net income was, however, a loss of $6.3 billion, with a loss per share of $0.82. The cause of this was a $13.8 billion tax bill courtesy of the Tax Cuts and Jobs Act (TCJA), signed into law by Donald Trump late last year. Absent that change, net income would have been $7.5 billion, up 20 percent year-on-year, with earnings per share similarly up 20 percent to $0.96.
The TCJA imposed one-time tax rates of 15.5 percent on foreign-held cash and cash equivalents, and 8 percent on non-cash, as if that foreign money had been repatriated to the US and hence subject to US corporate income tax. Many firms with large foreign-held cash piles are going to be taking big tax hits this quarter as a result; Citibank claimed a $22 billion charge, and Apple is expected to take a hit as big as $38 billion.
Microsoft currently has three reporting segments: Productivity and Business Processes (covering Office, Exchange, SharePoint, Skype, and Dynamics), Intelligent Cloud (including Azure, Windows Server, SQL Server, Visual Studio, and Enterprise Services), and More Personal Computing (covering Windows, hardware, and Xbox, as well as search and advertising).
The company also continues to report numbers from LinkedIn both as part of the Productivity group and independently. No year-on-year numbers are offered for the social network, as it still hasn't been under Microsoft ownership for a full year; it reached that milestone on December 8th. LinkedIn had revenue of $1.3 billion, with a cost of revenue of $0.4 billion and operating expenses of $1.1 billion, for a total loss of $0.3 billion.
The productivity group as a whole reported revenue of $9.0 billion, up 25 percent on the same quarter last year, with operating income of $3.3 billion, up 9 percent. 15 of those 25 percentage points came from LinkedIn, the rest was driven by Office 365. Office 365 commercial seats have grown by 30 percent, and revenue is up 41 percent. In contrast, Office commercial revenue—a category spanning both Office and the on-premises server applications—has seen its revenue decline by 16 percent. Year-on-year, Microsoft has added 4.3 million Office 365 consumer subscriptions, taking the total to 29.2 million, with overall Office consumer revenue up 12 percent. Dynamics revenue was also up 10 percent.
The cloud group revenue was $7.8 billion, up 15 percent, with operating income of $2.8 billion, up 24 percent, with growth reported across cloud, server products, and Enterprise Services. Server product revenue was up 4 percent, server product and cloud revenue together were up 18 percent, and Azure revenue was up 98 percent over the same quarter last year, with Microsoft repeating the now familiar refrain of "compute usage more than doubling." There are now more than 60 million seats managed with the Enterprise Mobility suite, up 64 percent year on year. Enterprise Services grew by 5 percent.
The Christmas quarter is always a bumper one for the More Personal Computing group, and last year's was no exception. Revenue was $12.2 billion, up 2 percent, with operating income of $2.5 billion, down 2 percent. Microsoft's abandonment of the smartphone space is still being felt in this group; revenue was down two points year-on-year due to the collapse of smartphone revenue. The growth was on the back of gaming—people buy Xboxes and Xbox games for Christmas—and search. Xbox Live is now up to 59 million monthly active users, up 4 million on the same quarter a year ago. Total gaming revenue was $3.9 billion, an 8 percent increase. The launch of Xbox One X hurt gross margin—expensive hardware tends to do that—but this was offset by growth in search and a shift to higher margin Surface devices. Search revenue was up 13 percent, on the back of more searches and more revenue per search.
Windows itself had a mixed quarter. OEM Pro revenue was up 11 percent, outpacing the commercial PC market, but non-Pro revenue lagged the consumer PC market and declined by 5 percent. Commercial and cloud revenue also declined, falling by 4 percent, attributed to a "prior year large deal."
The most interesting story—or perhaps non-story—of the quarter was Surface. Surface revenue was up 1 percent to $1.3 billion for the quarter. Microsoft reported a shift to higher-end, higher priced products, offset by a reduction in volume.
In January 2015, with just the Surface Pro 3 on the market, Microsoft reported Surface revenue of $1.1 billion. Three years later on, with a product range that now includes the Surface Laptop, two sizes of Surface Book 2, the ultra-niche (but still somewhat covetable) Surface Studio, and the best-yet 2017 Surface Pro, the revenue has barely changed. Not only does Microsoft have more products, able to fit a wider range of user scenarios, but it also has more stores, more retailers, more distribution deals with resellers and partners, and it's now selling to more countries. Still the revenue is little changed.
It's true that the competitive landscape has changed since then. Other PC OEMs have picked up the Surface Pro concept and produced their own high quality competitors; they've also substantially improved the range of laptops that they have to offer. Microsoft's decisions have also made Surface a strangely conservative line; witness the lack of Thunderbolt 3 (across the board), or the Surface Laptop's conventional hinge, rather than the 360 degree hinges that many other laptops now use.
Nonetheless, the lack of any significant growth remains surprising. While we had certain misgivings about it, the Surface Laptop on the whole was well received by the media, and it's a solid choice among thin-and-light laptops, especially among those that place a premium on good looks. Thunderbolt 3 would make the Surface Book 2 far and away the most flexible laptop on the market, but even without, it's a tremendously capable, versatile design that has few direct peers.
This performance puts Microsoft's Surface group in a strange position. While Surface Pro, especially with Surface Pro 3, has successfully stimulated a range of copy-cats and a new PC form factor, the Surface Book hasn't (yet) had the same result. It stands virtually alone as a hinged hybrid with a tear-off screen. Surface Studio's hinge is novel, and it has a screen that's breathtaking, but touchscreen all-in-ones are largely the same today as they were before its introduction.
As such, Microsoft's form factor innovation appears at present to have been a one-off rather than a consistent feature of the Surface line. Simultaneously, the lack of significant Surface Laptop uplift suggests that the brand's appeal as a straightforward premium brand is limited.
Taken together, we can't help but wonder the same question we asked with the Laptop was launched: what is Surface for? A good case could be made that sales numbers per se don't matter, just as long as Surface is pushing the PC market in new directions with new form factors and hardware standards, but if it's not doing that, but also not achieving mainstream success, is it truly worth the continued investment and annoyance to the OEMs?