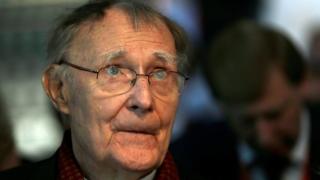 The Swedish founder of the Ikea furniture chain, Ingvar Kamprad, has died at the age of 91, the company has announced.
Mr Kamprad died at his home in Småland, Ikea confirmed in a statement.
The company said that Mr Kamprad was "one of the greatest entrepreneurs of the 20th century".
The Ikea founder had faced questions over his past links to the Nazis, which he referred to as the "greatest mistake" of his life.
Mr Kamprad was born in 1926 in Småland and founded Ikea at the age of 17. He "peacefully passed away at his home", Ikea's statement said.
His company's designs became popular in part because of their simplicity and value.
Furniture designer Jeff Banks said that Mr Kamprad's creations radically changed how people made and designed products for the home.
"People have tried to reproduce and copy that, but unsuccessfully," he said.
Mr Banks added that the designs produced and sold through the retailer made good use of recyclable products, adding that Mr Kamprad was "head and shoulders above the rest".