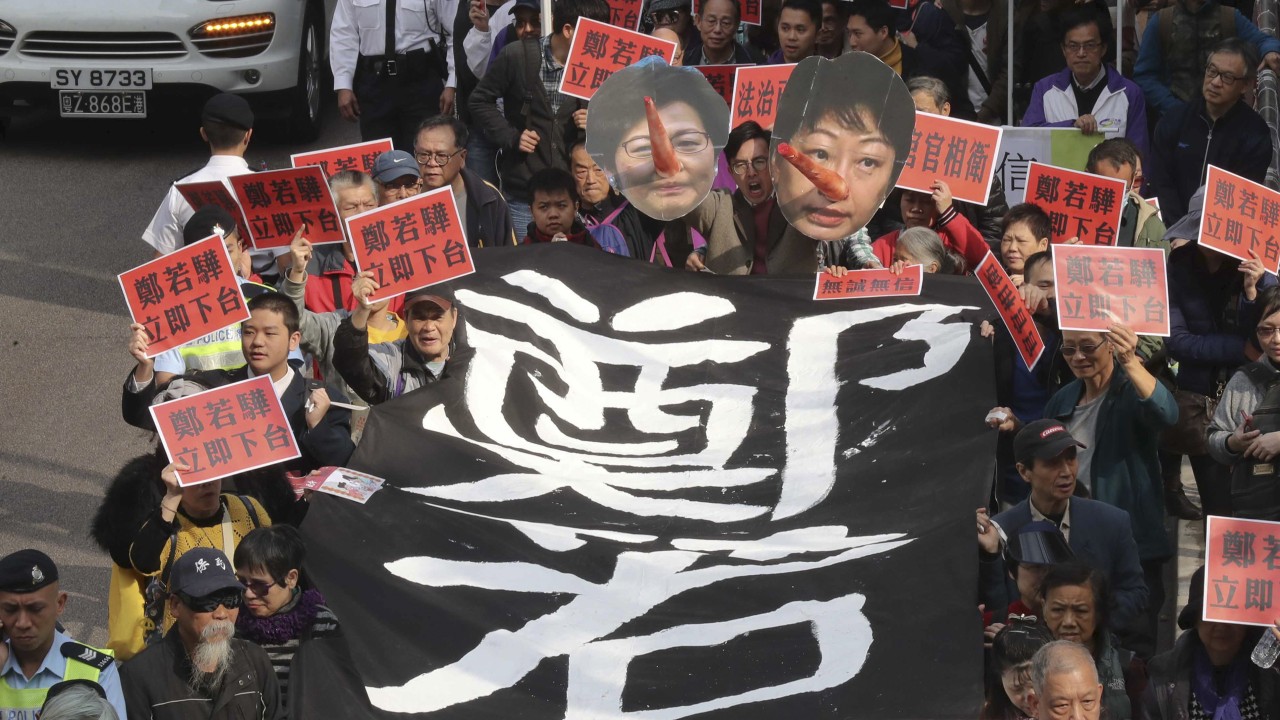 Hundreds of protesters took to the streets in Hong Kong on Sunday demanding that justice minister Teresa Cheng Yeuk-wah step down.
The demonstrators accused Cheng of "lying" about illegal structures at her properties. They also accused her of censoring localist pan-democrat candidates in next month's Legislative Council by-election.
The crowds shouted "Down, down Teresa Cheng" and "Secretary of Justice has no integrity" as they marched some 1.2km (about three-quarters of a mile) from Southorn Playground in Wan Chai to Justice Place in Central, where Cheng's office is located.
Those leading the march included former opposition lawmakers Alan Leong Kah-kit of the Civic Party and "Long Hair" Leung Kwok-hung of the League of Social Democrats, and Agnes Chow Ting of the localist party Demosisto.
They carried a huge banner with the slogan: "Teresa Cheng step down."
Chow was among those whose candidacy for the coming by-election was rejected by election authorities. Cheng admitted she had been involved in the legal advice provided by the Department of Justice to returning officers on the decision to reject pan-democrat candidates' nominations.
Civil Human Rights Front, which organised the march, estimated 1,000 people took part. Police put the turnout at 700. Front convenor Sammy Ip Chi-hin said the number was satisfactory as the Lunar New Year holiday was nearing.
"So many people have come out to tell [Chief Executive] Carrie Lam that they do not want Teresa Cheng to be the justice secretary. Lam should fire her," Ip said.
Cheng has been mired in controversy since assuming office early last month. She said she had been too busy so she overlooked the illegal extensions at her properties.
Lam had asked the public to be tolerant. She also said she permitted Cheng to continue handling six outstanding arbitration cases from her private practice, and that she could still continue teaching law at Tsinghua University in Beijing.
Cheng survived two no-confidence motions in the Legislative Council last week with the help of pro-government legislators. A separate motion to summon her to the legislature was also blocked.
One protester said: "What have Hong Kong people done to deserve a part-time justice secretary?"
Another said Cheng had failed to protect Hong Kong people's interest in the disqualification saga. "Whether she stands on Beijing's side or on the side of Hong Kong, I am not sure."
The protesters put labels that read "Liar" or "Disqualified" on a board erected outside the Justice Place compound before they left.
Meanwhile, to mourn those killed in the bus accident in Tai Po on Saturday, protesters observed a minute's silence before the march.