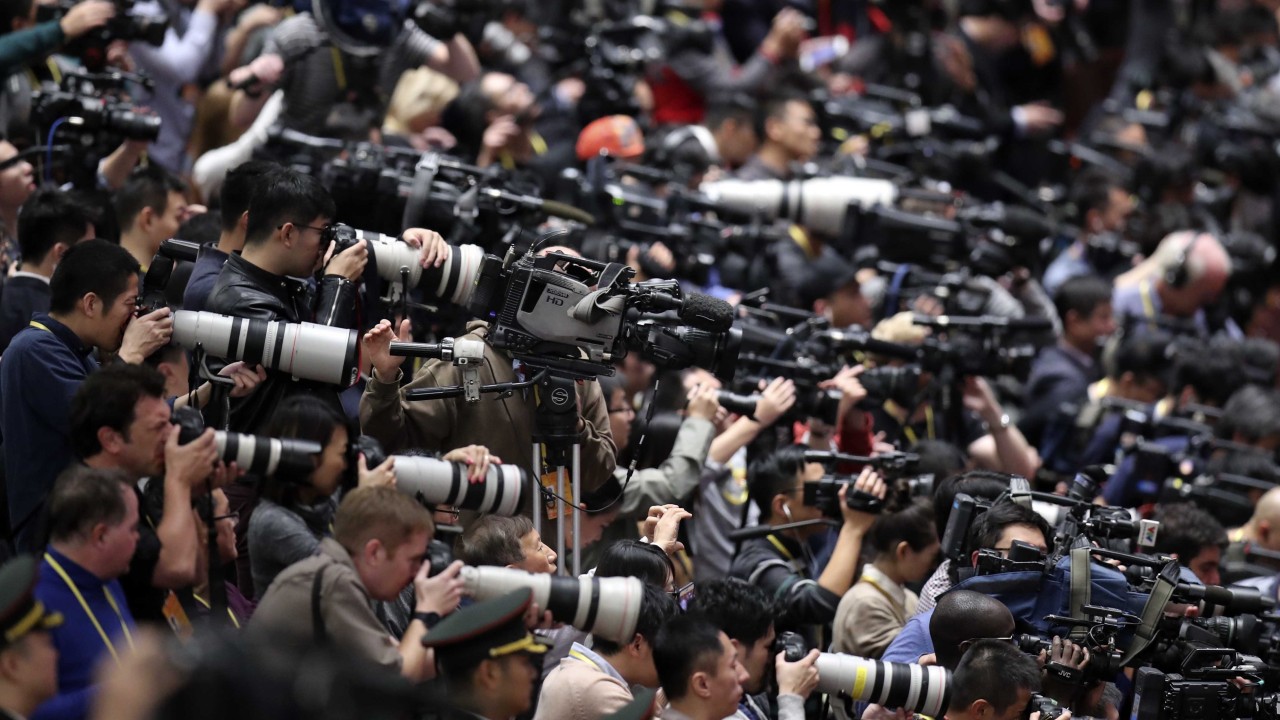 Working conditions for foreign correspondents in China deteriorated last year, with journalists reporting being beaten, detained and harassed, according to a survey published on Tuesday.
Almost half of more than 100 correspondents were subjected to some form of interference in 2017 while attempting to gather information, according to the report by the Foreign Correspondents' Club of China.
Twenty-three per cent said they were physically obstructed from accessing a location and 8 per cent said they were manhandled or beaten.
BBC reporter Matthew Goddard was quoted as saying that unknown individuals tried to smash his camera equipment after he refused to hand over footage, and "physically punched" him.
China shuts 128,000 'harmful' websites in 2017: state media
The FCCC said the results "provide strong evidence to suggest that, from an already very low baseline, reporting conditions are getting worse".
Reporting grew more difficult in many areas, but particularly in the vast northwestern region of Xinjiang, the homeland of the Uygurs – a mostly Muslim ethnic minority experiencing Chinese cultural and religious repression.
Seventy-three per cent of respondents who travelled to Xinjiang last year were told by officials that reporting was prohibited or restricted, compared with 42 per cent in 2016.
'Sing for the new era': Chinese journalists told to spread the word on Xi Jinping's ideology
"I was detained in Xinjiang numerous times, in pretty much every city, on the train. I was interrogated for 11 hours and was not permitted to sleep for two nights," the report cited a journalist from a US news organisation as saying.
Chinese authorities say the country has a basic policy of "opening up to the outside world" including protecting the rights of foreign journalists, who may interview anyone who gives prior consent. But correspondents reported growing pressure by Chinese officials on foreign news outlets.
'It's seen as a cool place to work' – how China's censorship machine is becoming a growth industry
The survey found that authorities stepped up the threat of not renewing journalist visas in an effort to convince media outlets to write more favourable repots.
Five international news organisations experienced visa difficulties that appeared related to their work. The problems included lengthy delays in visa approval, credentials issued with unusually short validity and outright rejection of accreditations.
Macau journalists are concerned about press freedom and access to official information, survey shows
Chinese diplomats overseas have also appeared to become more assertive in applying pressure on media headquarters, with 22 per cent of respondents reporting pressure on their head offices in 2017, up from 19 per cent in the previous survey.
Such activity has included critical public statements made by Chinese ambassadors and embassies, which have included accusations that reports were "fabricated news" and requests to delete articles.