For years she was the Queen of Las Vegas, the billionaire First Lady of the Strip. Elaine Wynn lost that title after her 2010 divorce from casino mogul Steve Wynn, but has now been pushed back into the spotlight because of her ex-husband.
Accused of sexual misconduct going back decades, Steve Wynn pointed a finger right at his ex-wife, saying she was the source of a newspaper story that may end his career. Through a spokeswoman, Elaine Wynn declined to comment. On Monday, lawyers for the 75-year-old philanthropist denied in a Las Vegas court that she was behind the Jan. 26 story in the Wall Street Journal that accused her ex-husband of pressuring employees for sex and reported that he paid $7.5 million to settle allegations from an employee.
"They're just trying to take the focus off of what is really going on," Mark Ferrario, her attorney, told Nevada District Court Judge Elizabeth Gonzalez.
In a statement, the company said "sufficient evidence exists to show that Elaine Wynn, personally and/or through her agents, instigated and facilitated the Wall Street Journal article. Elaine Wynn has threatened to 'destroy' Mr. Wynn and in that quest 'did not care if the stock went to zero.' We believe that the Wall Street Journal article was in furtherance of that effort."
The Journal has said it contacted 150 people for its story, none of whom reached out to the newspaper on their own. The report, which has prompted investigations by casino regulators from Massachusetts to Macau, could hand Elaine a victory in her six-year battle to win back voting rights to a 9.4 percent stake in Wynn Resorts Ltd. that she signed over to her husband years ago. Steve Wynn counts on those shares to maintain his grip on the company, which owns luxury resorts in Las Vegas and Macau. Without them, his company could be takeover bait.
"It's a game-changer," Devin McRae, a litigator with Early Sullivan Wright Gizer & McRae in Los Angeles, said of the accusations. "These allegations paint a picture of serious predation."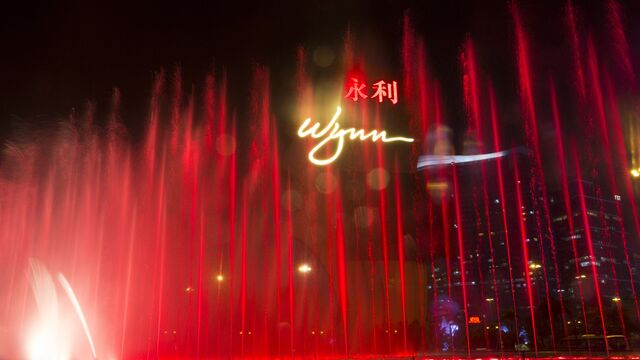 Dancing at Fontainebleau
It began as a love story, according to "Running Scared: The Life and Treacherous Times of Las Vegas King Steve Wynn" by John L. Smith. Wynn and the former Elaine Pascal were introduced by their parents and danced together at the famous Fontainebleau Miami Beach, with family looking on. He was an English major at the University of Pennsylvania. She was a beauty queen who would get her political science degree from George Washington University.
Beginning with a heavily indebted bingo parlor business that Steve Wynn inherited from his father, the pair built two major casino companies, Mirage Resorts and Wynn Resorts, that changed the face of their adopted hometown, Las Vegas.
"We're dealing with the best of the best, you don't get any higher than these people," said William Thompson, a professor emeritus at the University of Nevada, Las Vegas, who has studied and written about the casino industry. "This is a blow to Vegas."
With Steve Wynn taking big risks on casinos such as the Bellagio, now owned by MGM Resorts International, and the copper-tinted Wynn Las Vegas that he still runs, Elaine was often at his side, sharing her thoughts on everything from the design of hotel uniforms to the food at the restaurants.
I, Co-Founder
"I was co-founder, my role spanned all kinds of things," Elaine said in a 2015 interview with Bloomberg News. "Architecture and design, the amenities. I created all the opening events, New Year's Eve. A lot of creative work."
Married and divorced twice over almost 50 years, the Wynns broke up for good in 2010. It was amicable at first, with Elaine and Steve splitting their 20 percent stake in the company. She gave him voting control over the shares and agreed to limit her stock sales, just as another Wynn co-founder, Japanese businessman Kazuo Okada, had done. Wynn had lost Mirage Resorts to billionaire Kirk Kerkorian because he lacked the votes to block a takeover.
"It all began with our partner Okada," Elaine Wynn recalled. "So Steve would be protected."
The relationship began to change after Steve remarried in 2011. In what would be a difficult position for anyone, Elaine Wynn would attend company meetings with Steve and his new, much younger wife, Andrea Hissom.
Sayonara Okada
The following year Okada was forced out of Wynn Resorts and his stake repurchased in exchange for a $1.9 billion note after a company investigation accused him of trying to bribe foreign casino regulators. Okada denied the claims and sued.
Elaine joined Okada's lawsuit that year, saying she wanted out of the shareholder agreement. In 2015, she was booted from the board and lost a bid to regain her seat. Then in 2016, she alleged in the suit that Steve Wynn had paid a multimillion-dollar settlement to a former employee and had endangered the company with his "reckless" behavior.
In court filings and in the 2015 interview, Elaine has maintained her only goal is to regain control of her shares to focus on philanthropy. She serves on the board of the John F. Kennedy Center for the Performing Arts in Washington and is heavily involved in school programs in Las Vegas. In Los Angeles, where she also has a home, Wynn co-chairs the board of the Los Angeles County Museum of Art. Her $50 million gift kicked off a $650 million remodeling campaign.
"She's a strong person that has built a business," Michael Govan, the museum's director, said in an interview. "She's been building a second career in philanthropic leadership, and I get the sense that's her primary mission."
Investor Losses
Investors are taking the accusations against Steve Wynn seriously. The shares have tumbled 19 percent in two days, a loss of market value approaching $4 billion. Casino regulators in Massachusetts, where the company is building a new multibillion-dollar resort, plan to hold a special hearing Wednesday.
"The worst-case scenario for the stock would mean these accusations are proven to be true, Mr. Wynn is forced to resign and maybe even sell down his 12 percent position in the company," Jared Shojaian, an analyst at Wolfe Research, wrote in a note to investors. "The brand could become tarnished."
At Monday's hearing in Las Vegas, the latest in the long-running Wynn-Okada-Wynn litigation, Judge Gonzales weighed whether prospective jurors could be questioned about their political leanings. Steve Wynn, who resigned as the fundraising chairman of the Republican National Committee on Saturday, has been a big supporter of President Donald Trump. The judge mused about media coverage of the case, set to go to trial in April, and the possible difficulties in finding impartial jurors in Las Vegas.
"What should I do," Gonzalez asked, "have it at the Winnemucca courthouse?"
— With assistance by Christie Smythe