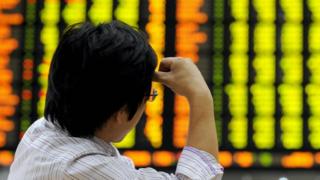 Major Asian markets suffered sharp losses on Friday, following another day of steep falls on Wall Street.
In a volatile week for global investors, Japan's Nikkei 225 index slid 2.3%, while China's Shanghai Composite slumped by 4.1%.
Earlier, the Dow Jones Industrial Average fell by more than 1,000 points for the second time this week.
Sell-offs around the world have been pinned partly on concerns over higher interest rates.
Elsewhere in Asia on Friday, Hong Kong's Hang Seng dropped 3.1%, while South Korea's Kospi index traded down 1.8% and Australia's S&P/ASX 200 eased 0.9%.
Those losses came as little surprise, with moves in major US markets providing the cue for global investors.
On Thursday, the Dow Jones ended 4.2% lower at 23,860, the S&P 500 closed down 3.8%, while the Nasdaq sank 3.9%. European exchanges also headed south on Thursday.
What about China?
China was the worst performer in Asia on Friday as losses deepened from declines seen earlier this week.
Chinese stock markets tend to be volatile and are dominated by retail investors, rather than big institutions like many other major markets.
But falls in China can spark nervousness around the world over sentiment in the world's second largest economy.
As well as the broader sell-off, analysts said stocks in China were weighed down by people selling ahead of the Lunar New Year holiday.
This is a common trend as the need for cash grows during this period – a time when Chinese companies typically pay bonuses and people also traditionally exchange cash and gifts during the period.
Why are markets falling?
This global sell-off began last week after a solid US jobs report fuelled expectations that the Federal Reserve would need to raise interest rates faster than expected because of the strength of the economy.
That concern has prompted the pull-back from stocks.
On Thursday, the Bank of England seemed to offer support for the view that rates are on the up.
The Bank left interest rates at 0.5% at its meeting, but said a strengthening economy meant interest rates were likely to rise sooner than the markets were expecting.
Also worrying investors was a government budget proposal announced by US lawmakers, which raises spending caps and could fan inflation.
Bond yields in the US have also risen in recent weeks, typically a signal of higher rates.
Higher interest rates push up borrowing costs for companies and individuals, which can hurt corporate profits and curb economic activity.
At the same time, higher interest rates can make investment alternatives to stocks, such as bonds, more attractive.
Will markets fall further?
The uptick in volatility comes as investors react to the shifting conditions. And more turbulence could be on the way.
"The return of volatility after two relatively calm days supports the idea there are further losses to come in the days and weeks ahead," said CMC Markets analyst Michael McCarthy.
The chaotic week on global markets also comes as several markets around the world sit on, or near record highs.
Analysts have said for months that financial markets were due a correction, after a long period of rising prices.
Thursday's declines mean the Dow and S&P 500 have now fallen by more than 10% from the record highs set in January, a threshold analysts call a correction.
Fidelity International's chief investment officer for Japan, Takashi Maruyama, said the "massive volatility" was a reaction to the rapid rise on the Japanese market since last year.
He added the sell-off presented a opportunity to buy shares at more "reasonable" prices.