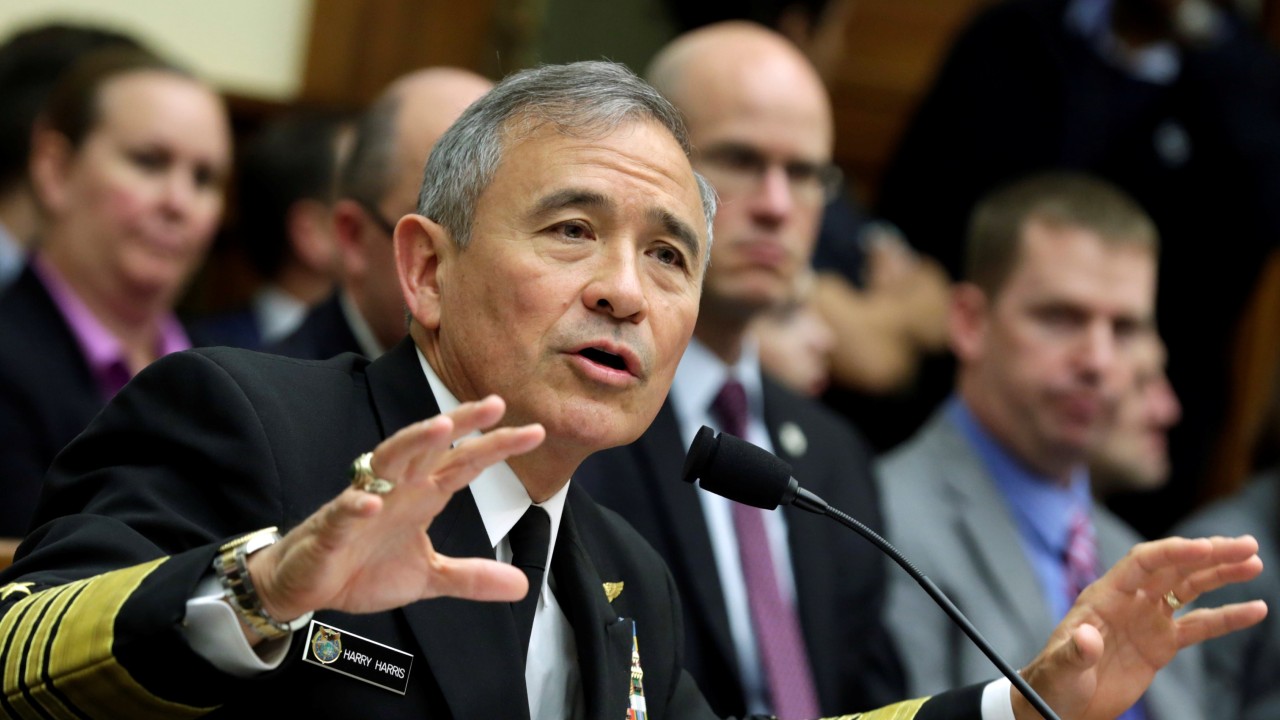 Donald Trump has named US Pacific Commander Admiral Harry Harris as his pick to serve as the American ambassador to Australia, the White House has said in a statement.
Harris, a naval officer, has served in the military for 39 years and is in his seventh command assignment as head of the US Pacific Command, the White House said. He is the first Asian-American to achieve the rank of Admiral in the US Navy.
"A highly decorated, combat proven Naval officer with extensive knowledge, leadership and geo-political expertise in the Indo-Pacific region, he graduated from the US Naval Academy in 1978 and was designated a naval flight officer in 1979," the White House statement said.
Harris has a masters in public administration from Harvard's Kennedy School of Government and an MA from Georgetown's School of Foreign Service, and attended Oxford University. He has held seven command assignments, including the US Pacific Fleet and the US Sixth Fleet.
While a vice-admiral, he served as assistant to the chairman of the joint chiefs of staff from October 2011. In that role, he was the chairman's direct representative to the US secretary of state.
His career, however, has not been without controversy.
A highly decorated, combat proven Naval officer with extensive knowledge, leadership and geo-political expertise in the Indo-Pacific region
White House statement
In March 2006, he assumed command of the joint task force at Guantanamo Bay in Cuba. During his command, three prisoners – Mani Shaman Turki al-Habardi al-Utaybi, Salah Ali Abdullah Ahmed al-Salami and Yasser Talal al Zahrani – died in the custody of US forces. US Defence reported the deaths as suicides.
Harris ordered a full investigation by the Naval Criminal Investigative Service, which published its report in a heavily redacted version in August 2008.
However, a subsequent report by the centre for policy and research of Seton Hall University School of Law, under the supervision of its director, Professor Mark Denbeaux, lawyer for two Guantánamo detainees, pointed to numerous inconsistencies in the official accounts of these deaths. The report suggested there had either been gross negligence or an attempt to cover up homicides of the men, perhaps owing to torture under interrogation.
In 2010, Harper's Magazine published a story suggesting the three prisoners had died as a result of accidental manslaughter during a torture session, and that the official account was a cover-up.
Harris regards North Korea as the biggest threat to security in Asia, calling for diplomacy backed by military power to "bring Kim Jong-un to his senses; not to his knees" in pursuit of peaceful denuclearisation of the Korean peninsula.
He was born in Yokosuka, Japan, in 1956, where his father was a US Navy chief petty officer. His mother was Japanese. Harris grew up in Crossville, Tennessee and Pensacola, Florida, where he attended local public schools. He currently lives in Hawaii with his wife, Bruni.
Meanwhile, Trump named Vice Admiral John Aquilino as the new US Pacific Fleet commander.
Aquilino currently commands the US 5th Fleet operating out of Bahrain.
The US Senate will vote on the nomination that was announced on Friday.
Two Pacific Fleet ships were involved in separate collisions near Japan and Singapore last year that killed 17 sailors. The Navy fired several top leaders, including the commander of the 7th Fleet.
The current Pacific Fleet commander, Admiral Scott Swift, announced in September he would retire after he learned he wouldn't be promoted to lead all US forces in the region at US Pacific Command.
The Pacific Fleet is headquartered in Pearl Harbour, Hawaii. Its ships operate from the US West Coast, Hawaii, Guam and Asia.